ABOU KAMARA
Employment Advocate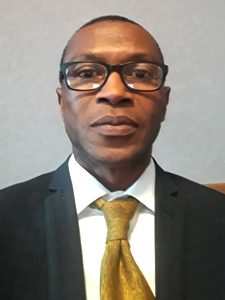 Abou Kamara is an experienced employment law advocate with over 10 years experience representing claimants and respondents in Employment Tribunals and the Employment Appeal Tribunal. His practice cover a broad range of employment la w matters including unfair dismissal, discrimination,, harassment, victimisation, transfer of undertaking and protected disclosure. He has also been involved in the training and supervision of junior barristers, solicitors and law students in employment l aw. His notable cases include Noor v Foreign and Commonwealth Office [2011] ICR 695, Packman v Fauchon [2012] ICR 1362, JJ Food Services Ltd v Kefil [2013] IRLR 850.
Abou is also highly skilled in the field of social security law, having appeared for Appellants in the First tier Tribunal and the Upper Tribunal (Administrative Appeal Chambers) in matters involving Personal Independent Payment, Disability Living Allowance, Employment and Support Allowance, Universal Credit and Housing Benefit.
Abou is the holder of a 'High Commendation Award' from the Attorney General of England and Wales for 'Best Contribution by an Individual' in recognition of the quality of his pro bono work. He has also served as the Treasurer of the Free Representation Unit.
EXPERTS YOU CAN TRUST
EXPERIENCE & BACKGROUND
LLB (Hons), LLM (Brunel)
Postgraduate Diploma in Education (University of London)
Postgraduate Certifcate in Law (London Metropolitan University)
Employment Lawyers Association
Free Representation Unit
Noor v Foreign and Commonwealth Office [2011] ICR 695
Packman v Fauchon [2012] ICR 1362, [2012] IRLR 721
JJ Food Services Ltd v Kefil [2013] IRLR 850
Dean v Latona Luxury Limited [2010] All ER (D) 71
Crouch v Ant Marketing & Ors [2011] All ER (D) 65
Solus (London) Ltd v Matthews [2011] All ER (D) 141
Ahmed v Bedford Borough Council [2013] All ER (D) 188
Richards v Manpower Services Ltd [2013] All ER (D) 194
Heritage Homecare Ltd v Mason [2015] All ER (D) 264
Owolowo v Family Mosiac Housing Association
[2010] UKEAT/0160/10/0908 Chang
Tave v Haydon School & Ors [2010] UKEAT/0153/10/0209
Jurys Inn Group v Tatarova [2010] UKEAT/0295/10/2311
BIS v Studders & Ors [2011] UKEAT/0571/10/1705
Griffin v Plymouth Hospitals NHS Trust [2011] UKEAT/0378/11/18
Griffin v Plymouth Hospitals NHS Trust [2011] UKEAT/0378/11/1811 11
Gateshead City Council v Hope [2011] UKEAT/0582/10/1904
Gateshead City Council v Hope [2011] UKEAT/0582/10/1904
Pye v Queen Mary University of London [2012] UKEAT/0374/11/2302
Pye v Queen Mary University of London [2012] UKEAT/0374/11/2302
Godfrey Morgan Solicitors Ltd v Marzan & Ors [2012] UKEAT/0466/11/1502
Godfrey Morgan Solicitors Ltd v Marzan & Ors [2012] UKEAT/0466/11/1502
Hemming v British Waterways Board [2013] UKEAT/0102/13
Hemming v British Waterways Board [2013] UKEAT/0102/13/1609 /1609
J Sainsbury Plc v Bibi
J Sainsbury Plc v Bibi–Hudson [2013] UKEAT/0147/12/0110 Hudson [2013] UKEAT/0147/12/0110
Uche v Oxfordshire County Council [2013] UKEAT/0384/12/2305
Uche v Oxfordshire County Council [2013] UKEAT/0384/12/2305
Bham v 2gether NHS Foundation Trust Gloucestershire (2014] UKEAT/0125/14/1209
Bham v 2gether NHS Foundation Trust Gloucestershire (2014] UKEAT/0125/14/1209
Williams v Leukaemia and Lymphoma Research [2014
Williams v Leukaemia and Lymphoma Research [2014] UKEAT/0493/13/0602 ] UKEAT/0493/13/0602
Pora v Cape Industrial Services Limited [2019] UKEAT/0691/18
Pora v Cape Industrial Services Limited [2019] UKEAT/0691/18