Saravanakkumar Vadiveloo
Year of Call: 2012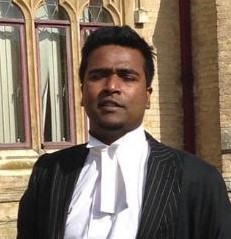 Areas of Practise - Civil law, Family law, Immigration law, Criminal Defence, Employment law, Private Road traffic matters
Saravanak Kumar's practise encompasses a mixed common law practise with a particular emphasis on civil litigation and family law.
EXPERTS YOU CAN TRUST
EXPERIENCE & BACKGROUND
Saravanak regularly represents and advises clients in the full range of Children Act 1989 Part II applications, including Child Arrangements, Prohibited Steps and Specific Issue Orders. He has experience of cases involving 'implacable hostility' and has represented parties in complex cases.
Re M (Child) (High Court) 2018
Fact finding proceedings. involving allegations from the Applicant Father that the 4 year old child had been sexually assaulted by Respondent Mother's partner.
Saravanak was instructed on behalf of the Respondent whilst the Applicant was represented by a Queens Counsel and a junior.
Careful but firm cross examination of the Applicant by Mr Kumar resulted in findings in favour of the Respondent that the child was not sexually abused.

Re G (Child) (Northampton Family Court) 2018
Saravanak was instructed on behalf of the Applicant Father.
A complex final hearing touching upon immigration status of Father and the required nexus of application for parental responsibility for the child. The Judge had invited submissions on immigration law pertaining the application for contact and parental responsibility by the Applicant which was opposed by both the Mother and the Guardian.
Parental responsibility and indirect contact was granted by the Court for Applicant Father.
Saravanak accepts instructions on a wide range of civil matters, having dealt with a number of small claims and fast track cases, applications to set aside default judgment and possession orders.He accepts instructions on the following areas:
Consumer contracts (Sale of Goods, Supply of Goods and Services);
Contractual disputes;
Credit and hire agreements;
Debt enforcement proceedings (Charging Orders, Order for Sale & Third Party Debt Orders);
Interim applications, including summary judgment and strike-out applications;
Personal injury, including infant settlement approval hearings.
Ahuja & Ahuja (High Court, Queen's Bench Division) Contempt of court Proceedings
Waythamoorthy and Ors v Secretary of State for Foreign and Commonwealth Affairs [2015] EWHC 1760 (QB)– Led Junior in this matter in the Court of Appeal for application for permission for leave to appeal.
Criminal Defence
Saravanak is often instructed  by solicitors due to his tenacity and incisive cross examination skills of witnesses which results in acquittals. His ability to expose contradictions and to discredit police officers and their evidence whilst exposing weaknesses in Prosecution case, ultimately leads to 'not guilty' verdicts.
 
R v Mandzik & Ors (modern day slavery)
Instructed on behalf of the First Defendant
Media link –
R v T Ziemys
Allegations of running 10 brothels and control of 3 prostitutes. After trial, Defendant was acquitted of 4 counts which resulted in a much lower sentence than expected (3 and a half years after time served meant 15 months actual imprisonment) .
Media link –
Saravanak advises, settles pleadings and represents parties in the First-tier Tribunal, Upper Tribunal, and High Court in the following : –
Asylum and Humanitarian Protection;
Citizenship and Nationality;
Unlawful detention;
Deportation of European and third-country nationals;
Entry clearance refusals;
Bail applications;
Family reunion;
Human rights;
Long residence;
Judicial Review;
Points based system applications and visas.
Saravanak Kumar has long had an interest in international law and the importance of benefit to be gained in learning from other legal jurisdictions and forging close cultural ties. He is also a door tenant at Kumar Chambers, Malaysia where he had previously advised on large scale fraud cases and civil matters.