About 3 Bolt Court Chambers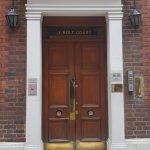 3 Bolt Court '3BC' is an established, modern, dynamic and a diverse set of Chambers established in late 2015 (Formerly known as Law Lane Chambers) and comprises of Barristers that specialises in various areas of law (see our specialisms page for more info).
The Head of Chambers are Farah Ramzan and Jacqueline Victor- Mazeli.
Our Chambers aim to provide the best possible service to those instructing us whether it is Solicitors or Members of the Public. 
We have a number of barristers who are specialists and experienced within their legal field of practice.
They not only provide excellent professional advice to clients but deliver exceptional advocacy in Courts and Tribunals across the Country.
Barristers at 3 Bolt Court are committed to ensuring:
1- Clients access to Justice
2- Maintenance of Ethical and Professional Standards
3- Efficient and Effective Delivery of Legal Services i.e. Advice & Advocacy
The Chambers is efficiently managed by Eustace Forjour, it's Chambers Director, with vast clerking experience and management skills who is not only easily approachable but is able to handle queries ranging from straightforward to complex needs. He is regularly available to speak with on the Telephone pretty much throughout the day into the evening. 
The Chambers also has in its team, Dylan Amagavluie, Blake Austin and Yohana Bereket who are the Assistant Practice Managers dealing with a wide range of queries from Solicitors and the General Public over the Phone and by Email.
They also handle the bookings of all of our Barristers on cases that they are required to work on
In addition, Chambers also has Mary Adebayo- Smith in it's team as a Barrister Clerk
We also have XXXXX as the Diary Management Clerk, and deals with the management of the barristers diary as well as other Administrative tasks in Chambers
Our Fees Department at present consists of XXXXXXX responsible for any payment or outstanding fee enquiry
3 Bolt Court is based in Fleet Street, Central London with an elegant Conference Room based in Stratford