FAISAL MEHMOOD
Year to Call 2018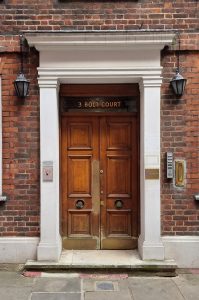 Mr Faisal Mehmood started his legal career in 2001 and worked in different jurisdiction in different capacities i.e advocate of lower court , high courts , advisor in citizen advice bureau, advisor for International Human Rights Organization and civil judge and Judicial Magistrate etc.
Mr Mehmood qualified as a Solicitor of the Supreme Court of England and Wales in 2008 and worked in different law firms in Immigration and Family departments. During his extensive practice as a solicitor, he regularly appeared for applicants, respondents and interveners at all stages of proceedings i.e  Private Law Children and Financial Remedy proceedings. Mr Mehmood also represented clients in Immigration and Asylum tribunals FFT and UT.
As accomplished advocate he succeeded in gaining his Higher Rights and later in 2018 he qualified as a Barrister from The Honorable Society of Lincoln's Inn and Called to the Bar.
As a partner of a large law firm Mr Faisal Mehmood is able to understand the demands and needs of both  the legal professionals who instruct him and their clients. Mr Mehmood has always adopted a collaborative approach and works closely with professionals and solicitors to achieve the best outcomes for clients.
Mr Mehmood has a straight-forward and friendly approach to advising and representing clients in all types of proceedings. He is known for being a personable, confident advocate and quick to gain his client's trust and confidence.
In the Family court he has already gained considerable experience in private children law, where his calm but focused approach has achieved strong outcomes for clients. He has a natural ability to ensure that vulnerable clients and those going through the emotional stress of court proceedings are guided with compassion and offers realistic and sensible advice.
With his wealth of knowledge and understanding of Indio-Pak cultures and religions, Mr Mehmood is particularly adored in cases where there are sensitive cultural and religious considerations.
He is a well-prepared advocate and provides robust practical advice outside of court whilst also being able to present his client's case confidently in court.
He has experience in all areas of family law including contested private and public children matters and financial remedy applications both at FDR stage and final hearing. He is regularly instructed in cases involving allegations of domestic violence.
He is also a Resolution accredited specialist (private children and Complex financial remedies), a community of family justice professionals who work with families and individuals to resolve issues in a constructive way. Being a supervise of Legal Aid in a family law in a busy law firm , he understands the clients and solicitors expectations whilst not losing sight of the best possible outcome for his clients.
Being a solicitor and barrister, Mr Faisal Mehmood had appeared as a party to a number of mediations and believes mediation should be encouraged to drive down the costs of litigation. Acknowledged as an expert in the legal field with over 20 years' experience in legal profession in different jurisdiction. Being a barrister, he can truly understand different positions and effectively mediate across a wide range of disputes.
Mr Mehmood is qualified as a Fellow of the Chartered Institute of Arbitrators
EXPERTS YOU CAN TRUST
EXPERIENCE & BACKGROUND
MA Political Science Diploma in Islamic Law Bar at Law LLM – 2007
Resolution accredited specialist
The Honourable Society of Lincoln's Inn
Accredited Member of The Civil Mediation Council
Fellow of the Chartered Institute of Arbitrators
Mr Mehmood has a working knowledge of Urdu ,Punjabi, Hindi, Mirpuri and Hindko and has a personal interest in Islamic Sharia Law.