Fatima Faran (Second Six Pupil)
2021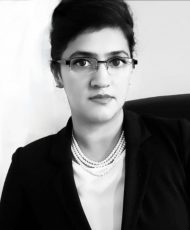 Ms Fatima Faran, who is currently completing her second six pupillage, has built her years of experience around civil, immigration, family and criminal cases. Her career jumpstarted when she served as an Associate in 'Imam And Associates Lawyers', one of the leading law firms in the Oil and Gas sector in Pakistan, where she worked for five years, thanks to her extensive political background as chief spokesperson, chief election campaigner and media head for Sardar Imam Qaisrani, a Senior Leader of Pakistan People's Party in Pakistan.
Fatima's interest in law began with debating competitions, where she was awarded the Chief Minister's Award for debating on a national level, and has nourished and grown to the motivation and drive she feels to uphold the law.
Since joining 3 Bolt Court Chambers, Fatima has worked a multitude of family law cases, ranging from simple child contact to complex care proceedings, FLA Applications (Non Molestation Order & Occupation Order) and many Fact Finding Hearings. Whilst she has dealt with many financial relief cases and sees them through their FDR and Final Contested Hearings, she has also gained experience and skills from dealing with many civil cases surrounding simple issues with tenancy and  much more complex possession hearings.
Furthermore, her experience is not only limited to civil matters as she has dealt with numerous criminal cases ranging from prosecuting simple road misdemeanours in the Magistrates' court to defending complex cases in the Crown court.
Due to her further experience of working in an immigration law firm, Fatima's innate expertise and skills have flourished whilst dealing with Immigration Appeal Hearings and preparation of skeleton arguments.