Hilda Adejumo
Year of call: 1989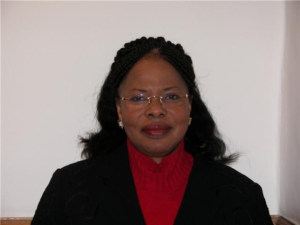 Hilda is an award – winning barrister (R-U Lawyer of the Year, BNLF 2019). She has a background in Bio-chemistry, a First Class Honours Degree in Law and an LLM (Corporate & Commercial Law) from Queen Mary & Westfield College, University of London, She was called to the Bar of England & Wales, a member of Lincoln's Inn of Court in 1989. Her practice areas span across but not limited to: Civil & Commercial litigations; Contracts; General Chancery; Probate; Family Law (Private/Public); Consumer Law; Housing; Landlord & Tenants Law; Family- Immigration & Asylum; Employment (Discrimination).
Professional Membership
Lincoln's Inn of Court; Family Law Bar Association; Panel Member of the Academy of Experts, Gray's Inn; British Nigerian Lawyers Forum; Chartered Institute of Arbitrators; International Federation of World Peace; Pan African Lawyers Union (PALU).
Academic Qualifications
B.Sc (Hons); LLB (Hons); LLM (Corp/Commercial Law, University of London); MCIArb; QDR; Barrister-at-Law.
EXPERTS YOU CAN TRUST
EXPERIENCE & BACKGROUND
As a Mediator
I am also a qualified and accredited international civil & commercial mediator by the Academy of Experts, Gray's Inn, London in 2001, since my accreditation, I have combined my role as both counsel and as a civil & commercial mediator with resounding success. I have mediated in various complex disputes including: Commercial Contracts, Employment Contracts, Personal Injury, Boundary disputes, Civil Action Against the Police, Consumer Acts disputes; Professional Negligence; Inheritance Acts disputes; Oil & Gas; Family disputes; and NHS-dispute related matters. I have also gained a huge experience in African customary law marriages & property related matters gained from community-based mediations. I am accredited to mediate international disputes.
As a Direct Access Practitioner
A change in the law in 2004 allowed barristers who have undertaken additional training to advise clients at first instance without the need for a solicitor. These are known as Direct Access or Public Access Barristers. This means my clients pay for one legal advisor rather than two. It provides a one-stop-shop without the need to run from one solicitor's office to the barrister's chambers, saving time and costs. I accept instructions from solicitors as well as individuals through Direct Access Practice regime. My work entails advising, writing opinions, drafting legal documents and representing clients in both lower and higher courts.My clientele includes individuals, corporations, international Government parastatals and State Governments. I am happy to attend conferences either in chambers or at a location of client's convenience.
My Approach
With a down to earth approach, thoroughness and eagle-eyed forensic analysis and enviable ability to sieve the wood from the trees, I am able to work with my clients with innate understanding and the empathy they deserve with outstanding results. My preparations and dedication to representing the best interests of my clients as well as my personable and approachable manner are always commendable.
I believe that my job is to solve problems and help people who find themselves in situations where they often feel bewildered, confused, uncertain and powerless. The trial process is often daunting for even the most ebullient of people. I am able to offer compassion, dedication and empathy for my clients every step of the way.
My Fees
You can expect realistic, cost-effective, time-saving, practical advice and service.
Testimonials
"Hilda Ephraim Adejumo acted as a sole mediator in an 'unnamed"' very substantial road traffic accident claim which went to mediation as a result of which it was settled quite quickly after issued proceedings and very much to the client's satisfaction. Her role as mediator was most helpful and kept the representatives and the parties focussed on the central and most important issues to be resolved. Very substantial costs and court time were avoided. The resolution of this case and the very way mediation was conducted by Hilda is an excellent example of the benefits of mediation when conducted by an experienced mediator". – Ian Beachley- Partner, MBMC Solicitors.
"Hilda is high professional in her approach to service delivery. She is results-orientated and passionate about her work and clients. She is a good time keeper and will go the extra mile to ensure customer satisfaction. She innovates and yet is sensitive about her clients' concerns. Though assertive, she presents her case with empathy and assurance. She has the ability to deal with very sensitive cases and handles clients with immense calm and wisdom". – Eneawan Enebong, Industrial Engineering.

"I have worked well with Hilda for over 10 years. She is a proficient professional, honest, reliable, truthful and competent lawyer. She is a brilliant legal luminary who combines formidable intellect and an extremely high level of legal analysis with client-focussed genuine compassion, dedication and empathy. She is a very skilful barrister and a very intelligent advocate. Hilda is an exquisite mediator with a hands-on approach to details and a par excellence top quality satisfactory work. A brilliant and personable barrister." – Osagumwengie Jesuorobo, Global Christian Ministerial Council.
"Hilda Ephraim Adejumo was invited as the speaker in a recent forum organised by the African Families Services, LB of Tower Hamlets. The topic was "The Use of Alternative Dispute Resolution as a means of resolving disputes". Hilda delivered the best presentation ever to be delivered in that forum. Her presentation was evidence of a well thought out, well researched, planned, informative and educative work and all the delegates understood the subject matter. Her style of presentation was excellent. She listened to questions and answered appropriately". – Amma Anane Agyei, Coordinator.
"Hilda was the best barrister in Court……" "MAR", a private Family Law Direct Access client.
Articles written
"Surrogacy: Our Moral Economy"
"A Consideration of the Legal Aspects of Customary Law Marriage"
"For Better and for Worse:- A Discussion Paper".
"The Dichotomy of the Private/Public. Who Benefits?"
"The law Giveth and the Law taketh: Blessed art the law".
"Towards a Greater Understanding of Child Rights".