Mehtab Malhotra
Year of call: 1996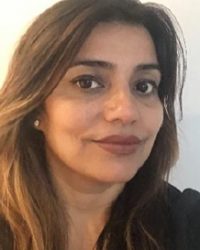 Mehtab was called to the Bar in October 1996, after qualifying from the Inns of Court, School of Law. After completing an LL.B and Masters in Law from University College, London she went into practice focussing on Immigration, Asylum, and Human Rights. In her 13 years as a practicing barrister, she has had experience of a wide range of areas including Civil Litigation, Family Law and Crime.
As an Immigration Practitioner, Mehtab specializes in Asylum and Entry Clearance work. She has enjoyed a number of successes in this capacity. She specializes in Overseas adoption cases, Marriage applications, Students, EEA related applications, Domestic servants, Work-permits, Points-based applications, Dependant parents, and most other aspects of the Immigration rules.
In her career, Mehtab has acted as Counsel for appellants as well as the Secretary of State for the Home Department from 2001-2003. This experience had armed her with an ability to anticipate arguments from both sides and given her insight into both aspects of the practice area. Mehtab is also an experienced lecturer having taught for many years on the Bar Vocational Course. She currently holds the post of Senior lecturer at The College of Law and has taught there on a part- time basis since 2006 and previously at the Inns of Court School of Law. She has taught civil and criminal litigation, advocacy, conference, negotiation, drafting and opinion- writing. She is involved in marking, proof- reading and writing assessments.
She is an accredited Advocacy trainer by the Inns Advocacy Training Committee. Mehtab is also a marker and assessor for Central Law Training ( CLT ) for the Immigration Component. Alongside her commitment to her legal career, Mehtab is also passionate about her artistic interests. She is a highly regarded singer of Indian semi- classical music and has performed in over 500 solo concerts, in the U. K, India and Europe. She has an album recorded with the internationally renowned artist Nusrat Fateh Ali Khan.
She has also worked as a news presenter on satellite television. Mehtab takes a keen interest in cross- cultural issues and is a fluent Hindi, Punjabi and Urdu speaker.
She has found that her multi-lingualism has been a great benefit to clients in her legal practice.
Mehtab also accepts instructions in Family & Civil Matters. She is also able to accept clients on a direct access basis.