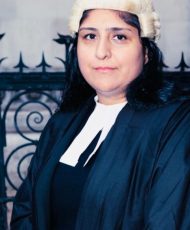 Nadia is a barrister at 3 Bolt Court specialising in all areas of Family Law ranging from Directions, Applications, to Fact Finding and Final Hearings. She has built up experience in dealing with :
Non Molestation
Children
Financial Matters
She is also instructed in possession hearings as well as Money Claim matters in the County Court. Prior to moving to the self-employed Bar, Nadia undertook cases for Kent Law Clinic which is a Free Legal Representation service in Kent.
Nadia was a member of the Defence Team under the supervision of Courtenay Griffiths KC for the Charles Taylor trial in The Hague. This formed part of her second six training.
Nadia welcomes a range of civil and common law work such as Immigration, Employment, Landlord and Tenant issues, Bankruptcy proceedings, Wills, Trusts and Probate issues.