SAAMIR MAHMUD
Year of Call: 1996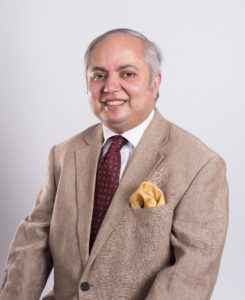 Exceptional Barrister
"Mr Mahmud who took my case on was a revelation, to say the least. He dealt with it in a highly professional manner and added a personal touch that never exists these days. He made me feel so at ease the moment we met and had thoroughly read through all my documents and truly understood what I was going through"
Mr Mahmud is a Senior Child, Domestic Violence, Family, Immigration and Asylum law Barrister who is a member of Lincoln's Inn where he was called to the Bar in 1996.
Mr Mahmud practises predominantly in the area of Family Law, Asylum law, Immigration law and Human Rights. He is known for his empathic manner, fearless and persuasive advocacy and a congenial and reassuring manner which makes him repeatedly asked for both by lay and professional clients. Saamir is known for his persistence in fighting the lay client's corner and for his tirelessness in securing the best possible outcome for his clients.
Within Immigration Law, Saamir regularly appears at the First and Upper Tribunals and has represented clients for Judicial Reviews and Appeals for Asylum and Immigration law. Freedom of Movement is close to his heart, particularly as someone who always coveted the idea of putting down his roots in his hometown Karachi but found that life 's journey took him to the United States for 4 years and then for the last 30 years in England. Saamir can empathise with immigrants who have often left too much, in fact a part of themselves behind, in coming to the United Kingdom. Saamir's empathic nature drew him to the law to fight tooth and nail for the underdog and he approaches his profession with pride and passion.
Saamir did his law degree at Oxford, where he was a student at New College, and a history degree at Cambridge, where he was at St.Edmunds' College which is the only college in Cambridge which retains a Catholic chapel. Saamir was an energetic member of the Alumni Association of St. Edmunds' College for several years and to this day retains an attachment to St.Edmunds' which he visits regularly.
Saamir is an avid bridge player, having always loved playing cards as a child and is a member of the Richmond Bridge Club, Acol Bridge Club, the Woodberry Bridge Club and Trowbridge County Town bridge club. He is a member of the Leytonstone Playreading Group, founded in 1936. Saamir has performed in several acting roles at the Leytonstone Playreading Group, including most recently J.B Priestley's "When we were married" performed in January 2023 and Terence Rattigan's "Separate Tables" in December 2022. He has a keen interest in theatre, film and greatly misses authentic Pakistani food given his limited skills in cooking! He misses celebrating important festivals like Eid in Pakistan, surrounded by loved ones, and comments that he finds himself going through an entire day without anyone wishing him in London, arguing that major festive holidays for all communities should be marked as a national holiday.
Saamir is extremely proud of his Pakistani heritage and retains a deep fondness for and attachment to his hometown, Karachi, which he refers to as his spiritual home. He speaks Urdu, Hindi and Panjabi fluently and is often instructed by clients in these languages. As a pacifist he believes in greater cooperation and peace building in the Indian subcontinent and a strong protester of human rights abuses in all parts of the world.
Saamir is a member of the Terence Rattigan Society and a member of the Kent and Canterbury Club.
Saamir is Direct Access qualified which authorises him to accept instructions directly from a lay client but is currently not accepting Direct Access work.
If you require the quality assistance of Saamir Mahmud, a practising Barrister in the fields of Family Law (Barring Money), Immigration or Asylum, please feel to contact us.
You can instruct us through:
• a practising Solicitor,
• the Bar Council's Licensed Access Scheme if you hold a valid licence
Specialism:
• Family (all aspects barring finances)
• Human Rights
• Immigration and Asylum
EXPERTS YOU CAN TRUST
EXPERIENCE & BACKGROUND
Immigration and Asylum Law :

Asylum
Immigration
Human Rights
Judicial Review
Public Law

Sam appears regularly before the First and Upper Tiers of the Tribunal (Immigration and Asylum Chamber). He provides advice and representation in all areas of immigration, nationality and asylum law both inside and outside London. Having lived in 3 continents, freedom of movement is close to Sam's heart and his growing interest in Public Law includes challenges to immigration decisions and detention before the High Court. Sam is often instructed in matters with an immigration and family law overlap.
Family Law :

Adoption
Care Proceedings
Child Abduction
Children Act applications
Emergency protection of children
Divorce/Nullity
Domestic Violence
Forced Marriage
Private law
Within Family Law, Saamir regularly appears in complex and sensitive matters dealing with Public Law ( care proceedings), Private law, Domestic violence, Child abduction, as well as specialising in matters where there is an overlap between family law and asylum and immigration. Saamir represents parents and children and has a strong interest in matters under the Forced Marriage Act. He has delivered a talk to Scotland Yard on Domestic Violence which is an area close to his heart, and feel passionately about the protection afforded by the family courts not just against physical abuse but emotional and financial abuse.
Fluent and often accepts instructions in Urdu and Panjabi at court
The Honourable Society of Lincoln's Inn
Member of the National Liberal Club (Muhammad Ali Jinnah the first Governor General of Pakistan, and a successful barrister, was both a member of the National Liberal Club, and a Member of Lincoln's Inn)
Chairman of the Bridge Circle, National Liberal Club
Family Law Bar Association (FLBA)
Member of the Royal Scots Club Edinburgh, Scotland
Member of the prestigious Savage Club
Life Member, The Pakistan Society (Founded in 1951 and Chaired by Sir William Blackburne QC)
M.A ( Oxon) (oxford university :Oxon) LL.M (Soas) (School of Oriental and African Studies: SOAS,) (Univ. Of London) M.Phil (Cantab) (Cambridge University: Cantab) B.A (Jurisprudence) (Oxon) (Oxford University: Oxon)
VLT V SECRETARY OF STATE FOR THE HOME DEPARTMENT "The short point is that the appellant lost his appeal because he was disbelieved and Mr Mahmud argues that the reasons for disbelieving the appellant are unlawful. Having reflected on those submissions and on Mr Kotas' contrary arguments I have come to the conclusion that, broadly, Mr Mahmud is right."  Jonathan Perkins , Sitting at the Royal Courts of Justice, 3 December, 2019.