ANJULIKA VATISH
Year of call: 2009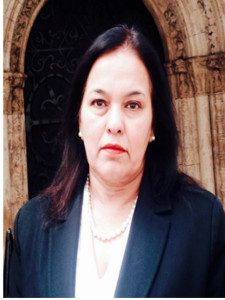 MA, LLB( Hons), Solicitor 2001- 2009, Barrister- called to the Bar 2009
Professional Membership
Member of The Bar Council UK- with current practising certificate.
Member of the Law Society UK in roll of solicitor as a non-practising solicitor..
Specialism
Family (Including International Aspects & Child Care Proceedings) , Immigration, Criminal Defence, Civil, Landlord & Tenant, Licencing, Cross- Border and Social Security.
EXPERTS YOU CAN TRUST
EXPERIENCE AND AREA OF PRACTICE
2001-2011- Lawyer Crown Prosecution Service London.
Immigration– Several years of regular instructions from the Secretary of State for the  Home Office to represent Home Office in First Tier Tribunals in all Immigration matter, entry clearance including EEA Law, sham marriage, family and extended family member etc. I am regularly instructed in immigration matters by the appellant to represent them then  in First Tier Tribunal and Upper Tribunal in permission hearings and substantive hearing.
Drafting grounds
for appeal on UK and EEA immigration Law for appeal in all Immigration Tribunals and Judicial Review for the Appellant
Advocacy in all Immigration Appeal tribunals, First Tier Immigration tribunals and Upper Tier Immigration appeal tribunals.
Advising on all aspect of Immigration Law, Point based system including indefinite leave to remain, family settlement including EU, student and work visa, Asylum.
Bail
– Representing clients in immigration bail applications and deportation hearing in immigration Tribunals.   Family Law–  
I have a strong family law practice. I have conducted  family and child care proceedings in many  Family Courts including High Court in and outside  London representing applicant and respondent. I frequently represent the applicants, respondents and Local Authority in child care proceedings in Public Law cases. I have  conducted many fact finding hearings lasting from one day  to several days. I have also successfully challenged abduction, habitual residence and ward of court cases including cases with international aspect on Human Rights.
Advocacy : I have experience of advocacy in all field of Family Law in Family Court and High Court representing the applicant, respondent and local authority.
I regularly appear in front of tribunal judges, District Judges, Recorder, Circuit Judges and High Court Judges.
 Advising:  I advice on all aspect of Family, Immigration and Human Rights Law.
I frequently travel outside UK and London to represent my clients  in Family Law cases, Immigration cases and debt recovery cases from India.
Non molestation and restraining order– Advocacy in Magistrates Courts, Family Court and County Courts.
  
Past experience.
  Criminal–
Criminal Prosecution experience of over 10 years as in house Senior Prosecutor in Crown Prosecution Service. Prosecuting all levels of criminalOffence.
Trial Courts-Representing defendant in all criminal trials in Magistrates Courts, including Domestic violence, Road Traffic Offences, special reasons and exceptional hardship hearing.
Bail Courts- Representing Defendants in Bail hearing in Magistrates and Crown Court.

Advised  and authorising charges for Metropolitan Police and National Police force on phone and in face to face as a senior prosecutor in the Crown Prosecution Service.

I have extensive experience of advising, reviewing and prosecuting wide range of criminal offences from minor to very serious offences as In House Senior Prosecutor in Crown Prosecution Service. Currently I defend clients in all aspect of criminal law in Magistrates Courts, in First Appearance and Trials in Magistrates Courts including Domestic Violence.

I represent Defendants in Crown Court in Case Management Hearings.
I have extensively represented clients in Road Traffic offences including excess alcohol and disqualification, special reason hearings.

CIVIL EXPERIENCE
Immigration Law – I represent both the government and the appellant in First Tier  Tribunal.
I represent the Appellant in Upper Tribunal and First Tier Tribunal across the country.
Analytic
I possess a much enhanced legal analytic skill which helps in solving complex legal issues quickly, promptly and efficiently. I am able to think and analyse complicated and difficult issues on my feet in legal environment.  
Legal
I have extensive legal experience of the criminal justice system. My strength is advocacy in Civil and Criminal courts, leadership and negotiation I was a Youth, Domestic Violence and Fraud specialist including fraud by false representation, under ID card Act, and drugs related offences. I have completed first stage of International Arbitration and hoping to take further mediation course.
Languages
I fluently speak, read and write Hindi. I speak fluent Urdu and Punjabi.