FARAH RAMZAN
Year of call: 2003 -Joint Head of Chambers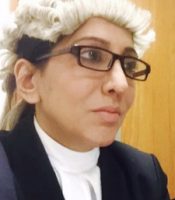 Farah is a significantly experienced Advocate with over 9 years experience.
She predominately has a practice that involves both publicly and privately funded work. She has appeared in courts throughout England and Wales that include the High Court, Court of Appeal and the Old Bailey.
Prior to coming to the bar she worked in a solicitors practice in the North of England, specialising in serious criminal cases. She also provided legal advice as a volunteer based at a local Legal Advice Bureau in Manchester.
EXPERTS YOU CAN TRUST
EXPERTISE
Farah has extensive experience in a broad range of criminal work from straightforward theft and public order offences right through to serious crime that includes kidnapping, robbery, sexual offences, violent crime, drugs conspiracies and fraud.
She is constantly instructed as a result of her proficiency and her firm yet personable approach. She has experience in representing a diverse range of clients that include vulnerable young defendants, adults and individuals suffering from mental illness.
Accompanied with considerable experience in criminal defence work she has regularly been instructed to prosecute on behalf of the Crown Prosecution Service and other prosecuting authorities that include the DWP, SERCO, G4S and British Transport Police.
Farah's practice consists of Immigration, Asylum and Human Rights Law. She has covered areas involving unlawful detention and challenges to decisions to withdraw sponsor licenses from education institutes.
She regularly appears before the Tribunal, Administrative Court of Appeal on all areas of immigration. She provides advice, representation and advocacy on national deportation, asylum, entry clearance, applications for leave to remain under the Points Based System. Farah also has experience of judicial review work and drafts grounds for reconsideration to the Tribunal, applying for emergency injunctions and has drafted grounds of appeal for the Court of Appeal.
Farah has developed a thriving practice in all areas of family and civil law including Child Arrangement Orders. Farah advises and represents clients in ancillary relief matters Her approachable manner and yet robust and practical style has transferred well to the civil arena where she is regularly instructed in fast and multi-track claims, personal injury matters , financial disputes and possession hearings.