SHAHID RASUL CHAUDRY
Year of call: 2006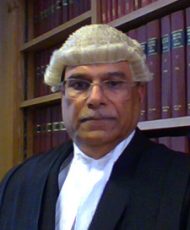 In 2003, Shahid graduated from the Nottingham Law School, Nottingham. After completion of his Bar Vocational Course (BVC) from Inns of Court School of Law in 2005, he was called to the Bar at Lincoln's Inn in 2007. His practice is in the following areas:
Immigration & Asylum Law,
Family Law,
Housing Law,
Civil Litigation Trials (including Small Claims hearings),
Business Law,
Corporate Law,
Contract Law,
Company Law,
Sales of Goods and Consumer Credit.
He has been instructed to conduct trails as well as to act on a number of complex cases and has never failed to impress his clients with the depth and breadth of his knowledge of law.
Shahid has appeared in the international courts as well as in England and Wales' High Courts, County Court including Small Claims Courts and Family Court hearings.
He has 40 plus years of business experience and is a graduate from the California State University East Bay, Hayward, California, USA, with MBA's in:
• Supply Chain Management,
• Operations and Materials Management,
• Corporate Finance, and
• International Business Management.
Shahid has a loyal following of clients and he is well known to be an efficient and well organised in his work.